What and How to Use Tidal Connect
---
What is Tidal Connect? Tidal Connect is a natural 'Bluetooth' created to build a cloud connection between Tidal streaming music and your preferred hardware. Tidal Free and Tidal HiFi members are free to use with this feature.
Which devices are compatible with Tidal Connect? You can simply find the Tidal Connect option on the device and enable it. Plus, it is necessary to make the Tidal app version should be a relatively new version for iOS at v2.16.0 or Later and Android at v2.32.0 or Later. Nowadays, many devices have already integrated with Tidal services.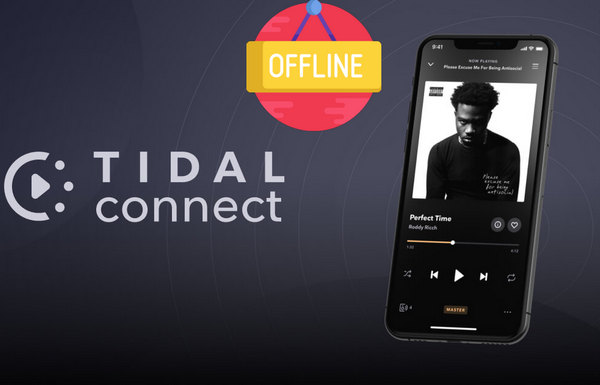 How to use Tidal Connect? 1. In the TIDAL app, open the "Now Playing" screen while playing a song. 2. On the "Now Playing" screen, look for the device_output.pngicon. 3. Choose a TIDAL Connect-enabled speaker from the list. It's that simple.
-WHAT TO DO IF TIDAL CONNECT IS OUT OF CONTROL?
-Solution: Download Tidal Music As Local Offline Storing Files
But, what if Tidal Connect is not staying in sync or out of service? Is there an alternative way to keep your Tidal Music tuning uninterruptedly? The most stable way is to download Tidal Music to offline playing, which is less influenced by some unpredicted reasons at the most like the internet or playback issue. By downloading Tidal Music to local storage, you will keep Tidal Music playable on devices all the time. So we next tell you how you can download your desired offline and keep music playable on your hardware when Tidal Connect is out of control.
Instead of download Tidal Music to your cloud storage and enable Offline mode to keep music playable, we are sharing a way to download Tidal offline and save the Tidal Music outside of the Tidal platform. The downloaded music will be permanently available even though you run out of subscription time. You can get rid of the Tidal account and Tidal Connect to play Tidal music on your preferred device. So to learn how this way goes, read the steps in the following.
The tool we can gain helps from is Tidabie Tidal Music Converter, which is to simply download streaming music from the Tidal web player. It is possible to convert Tidal Music to plain audio format like MP3/AAC/WAV/FLAC/AIFF/ALAC. And all the Tidal completion is truly saved to your computer's local storage. Original Hifi audio quality will be kept after conversion. Here you can view the features of Tidabie Tidal Music Converter: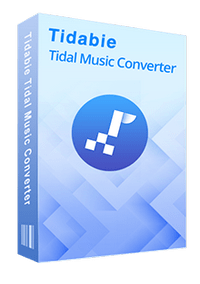 Tidabie Tidal Music Converter
Support Tidal Free and Tidal HiFi users.

Download Tidal Music to the computer.

Convert Tidal Music to MP3/AAC/WAV/FLAC/AIFF/ALAC.

Keep up to Hi-Fi audio quality.

10X faster speed; Retain ID3 tags after conversion.

Free updates & technical support.
STEP 1

Launch Tidabie Tidal Music Converter on A Computer

Simply installed a Tidabie Tidal Music Converter on a computer. Either Windows or Mac is okay, just get a version by clicking the download button provided above. After that, click on the 'Open Tidal Web Player' presentation on Tidabie's homepage.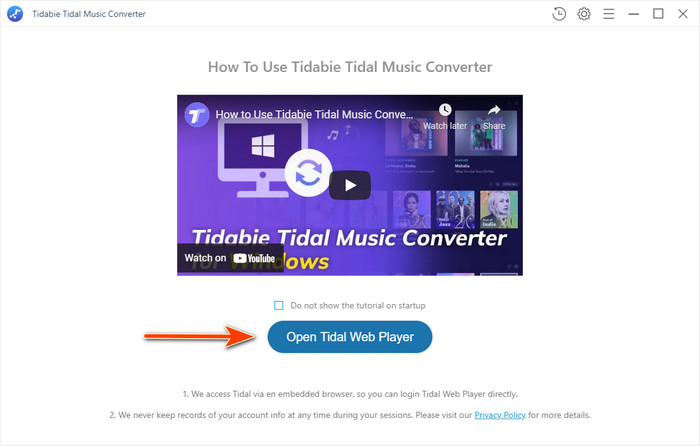 STEP 2

Log in Tidal Account in Tidabie Tidal Music Converter

Follow the on-screen guidance to firstly log into your Tidal account information, thus being able to access to Tidal Web Player library as usual.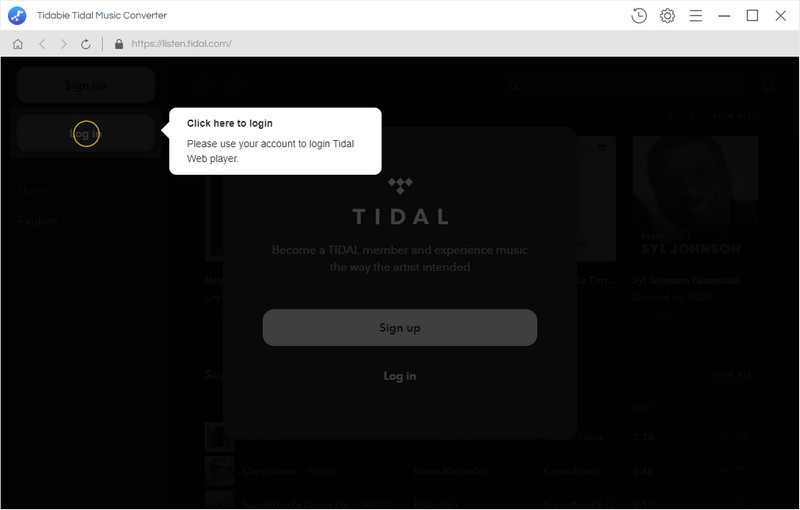 STEP 3

Customize Tidal Music output format and output folder

You can custom audio formats for the Tidal Music to convert, which is largely depends on the streamers you will play with afterward. For instance, you can customize a FLAC lossless format, which is fully compatible with Bluesound Node 2i. So guide to the Settings part at the top right corner. Then it will pop up another smaller window for the actual definition.

Output Format: MP3, AAC, FLAC, WAV and AIFF

Output Quality: 128kbps, 192kbps, 256kbps, 320kbps (FLAC/WAV/AIFF is default set as HiFi quality)

Output Folder: Create a path on the computer to store the audio file after conversion

Output File Name: Track Number/Title/Artist/Album/Playlist Index

Output Organized: Artist, Album, Artist/Album, Album/Artist
STEP 4

Add Tidal Playlist to Convert

Open any playlist or album you want to download offline and then click on the 'Add to list' button. Tidabie will read the whole playlist and let you pick your desired songs to convert and download. If there are too many songs in this playlist, you can one click on the box next to Title to choose all of them. And finally, click on 'Convert Now' to start the process.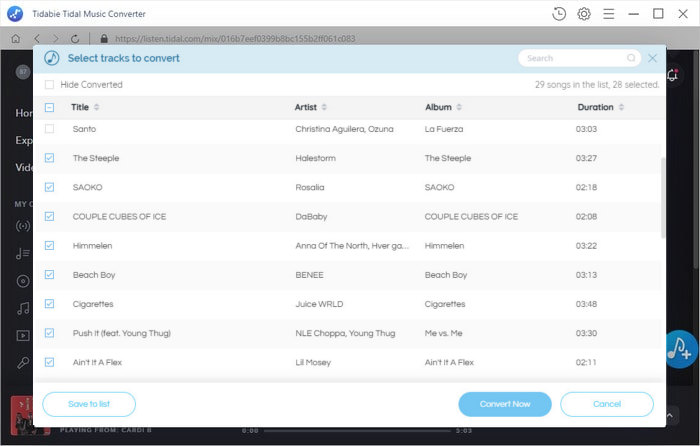 STEP 5

Check Downloaded Tidal Music at PC Local

As long as songs are all converted as expected, you can go to the 'History' column and you can view all the download history. To view them on your computer at local, tap the folder icon beside the song and reach out the file at the computer local path. From now on, you can play all Tidal Music offline, even with no Tidal app bundled!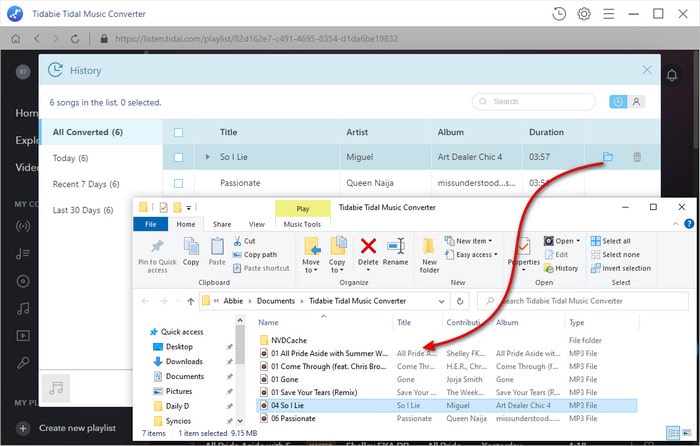 STEP 6

Import the Download Tidal Music to A USB Flash or Hard Drive

As for the last step, we will suggest pack all the downloaded music to a USB or Hard Driver and port it to your audio streamer, you can play the Tidal Music without any quality loss and keep music playing all the time!
Conclusion
Even Tidal Connect is within easy reach, we still highly suggest you download Tidal Music to local offline storage. By download Tidal Music to your storage, you will gain more control of the songs, sound quality, the way to play music, which device you want to play the Tidal Music with. You can get rid of the Tidal things totally but still enjoy Tidal Music as before. There are truly more options worth your new trial. And Tidabie Tidal Music Converter makes all these wants happen! Get it a free trial now!