Where Are Tidal Music Downloads Stored?
---
"I've used Tidal for a while, but I never know where they are stored. I need to locate them and play them under the offline mode, where should I check?
Offline playback of the Tidal songs is the most important why some users subscribe to Tidal. Tidal Music offers an offline mode by caching songs in advance and then the downloaded songs can be played without data. When you are going to relish the offline playback, you are not sure which songs are downloaded and available for offline listening. In this post, we will lead you to find where the downloaded Tidal songs are stored and how to download the songs, albums, and playlists from Tidal Music as local files to store them forever.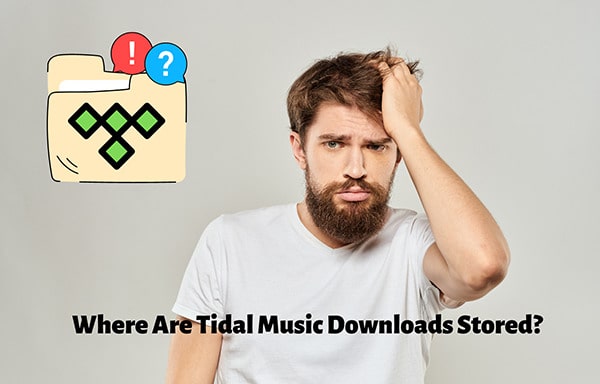 Part 1. Where Are Tidal Music Downloads Stored?
Tidal music is not supported to be downloaded on the desktop computer. Therefore, you should find the Tidal downloads on your Android phone or iPhone.
Step 1: Start the mobile Tidal Music app on your phone.
Step 2: Press on "My Collection". Under this column, tap on "Downloaded" to find your music.
Step 3: Here the downloaded Tidal albums and playlists are available to play offline.
Step 4: If you need to play the downloaded Tidal songs under an offline mode, go to "My Collection" and click on the "gear" icon. Then turn on the offline mode. You can go back and play the downloaded Tidal albums or playlists without using data under the "Downloaded" column.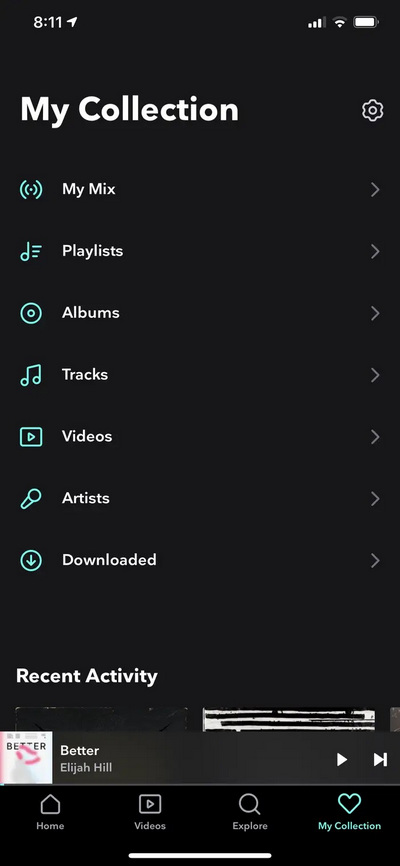 ---
Part 2. How to Download Tidal Music as Local Files
The Tidal downloaded songs can only be played with the Tidal Music app or web player. When you opt for a long-term playback even after canceling the subscription, you will not get a positive answer from the Tidal official service.
Notwithstanding you've got a little depressed knowing the fact above, Tidabie Tidal Music Converter will not let you down again. It's a reliable converter with a high level of proficiency in downloading songs, albums, and playlists from Tidal to a local Windows PC or Mac as unprotected files. You will not lose your favorite collected Tidal playlists the instant canceling the subscription after converting the Tidal tracks by Tidabie.
For a Tidal Free user, Tidable provides you offline downloading as well and you will avail yourself of ad-free playback. Follow us to explore the detailed instructions.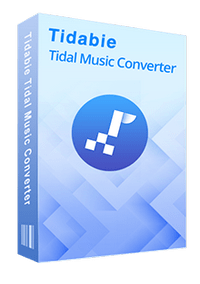 Tidabie Tidal Music Converter
Download music with all types of Tidal plans, including Tidal Free.

Downloaded Tidal songs, albums, and playlists are well compatible with kinds of devices and programs.

Convert Tidal tracks to unencrypted MP3, AAC, WAV, FLAC, AIFF, and ALAC formats.

Batch download multiple Tidal Music playlists or individual Tidal tracks.

Extract HiFi music from Tidal without quality loss.

Download each track with the full ID3 tags kept.

No need to install Tidal Music app.

Free updates & technical support.
Step 1: Start Tidabie Tidal Music Converter
Open the newly installed Tidabie Tidal Music Converter. Then click on the "Open Tidal Web Player" button. We are going to extract Tidal songs directly via the built-in Tidal Music web player. It's much more convenient to get what you want from Tidal. Tidal Free, Tidal Hi-Fi, or Tidal HiFi Plus accounts are available for downloading songs.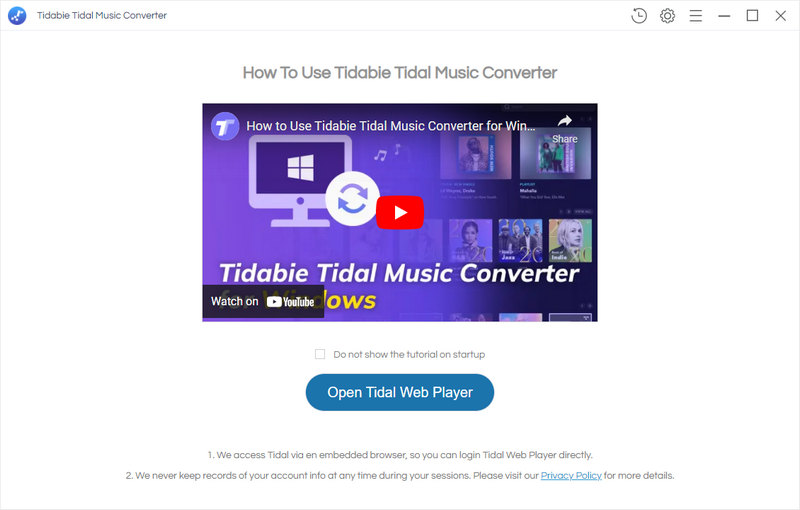 Step 2: Set up the Preferred Output Parameters
We'd better not skip setting up the output format, and output quality (bit rate, sample rate) before putting forward the conversion. In the upper right, a gear icon named "Settings" will be displayed, click on it. Then we can change the output settings depending on your requirements. The output format should be selected carefully as the downloaded files should be compatible with your device or program later.
Tips: Provided that you want to save all songs in the same folder, select "None" in the Output Organized setting.
🍥 Output Format: AUTO, MP3, AAC, WAV, FLAC, AIFF, ALAC
🍥 Bit Rate: 320kbps, 256kbps, 192kbps, 128kbps
🍥 Sample Rate: 44.1KHz, 48KHz, 96KHz, 192KHz
🍥 Output File Name: Track Number, Title, Artist, Album, Playlist Index, Year
🍥 Output Organized (way): None, Artist, Album, Artist/Album, Album/Artist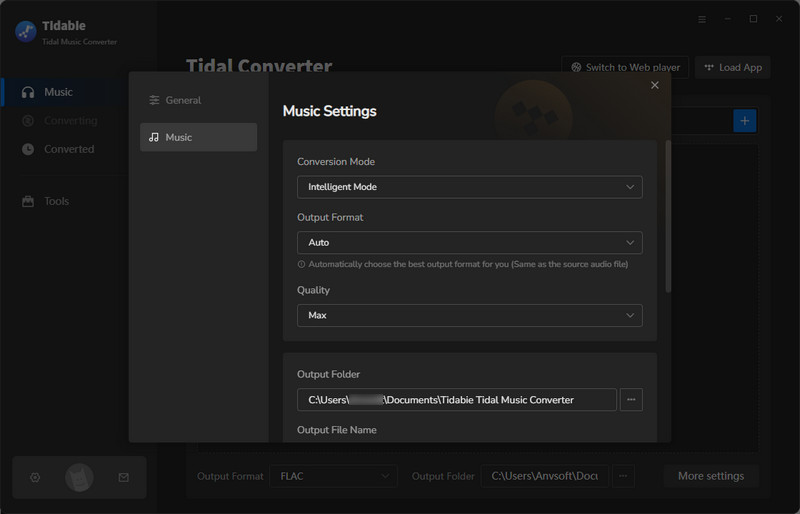 Step 3: Converting Tidal Music to Unencrypted Files
Locate the album and playlist you prefer, and open it. Click the "Add to list" button when you intend to get music tracks downloaded. Tidabie will list all songs on the album or playlist for your selection. Make a decision then hit on "Convert Now" to trigger a conversion at the moment.
"Save to list" is another option for users who are willing to select more songs from other playlists and try converting all added items at once.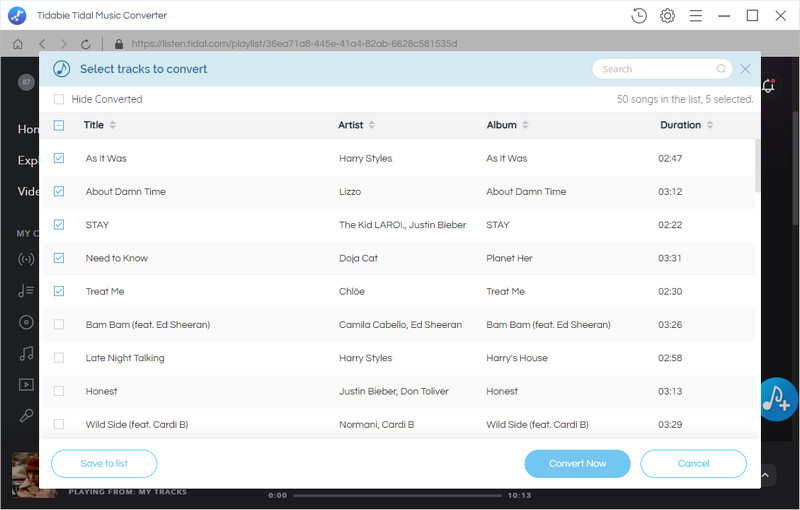 Step 4: Free Playback of the Locally Stored Tidal Songs
Once the conversion is done, the output folder will pop up automatically. Check the downloaded songs. You've stored the Tidal songs to your local PC successfully. Now, it's time for free playback. You can transfer them to any device or use them with any program right now.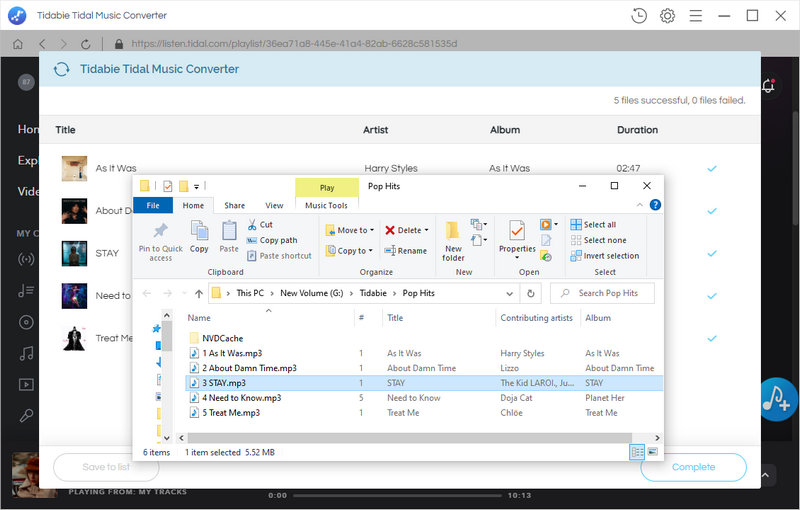 ---
The Final Words
Tracking down the location of the Tidal downloads stored has been bothering a lot of people. However, more importantly, choosing the right way to download the Tidal Music tracks at first. Start a free trial to make Tidabie unlock the offline playback of Tidal music immediately.